In an ideal world, all children would know their parents' identities, but this is unfortunately not often the case.
According to Abiodun Salami, a senior geneticist at the DNA Centre for Paternity Test on Allen Avenue in Ikeja, Lagos, approximately six out of ten children who undergo DNA testing believe the wrong person is their father, however, an exact percentage is impossible to determine.
Peace of mind paternity tests are a reliable and cost-effective way to learn the truth. Delaying the truth can have a major influence on a child who builds a rapport with a guy who later turns out not to be their father, causing both parties considerable suffering.
When it's unclear who the baby's real father is, a paternity test performed as soon as the baby is born can clear up any ambiguities and guarantee that the father-child bond starts off to the best possible start.
However, we recognize that paternity is a very personal and sensitive subject that can have a tremendous influence on families. Before taking a paternity test, think about your own situation and how the results of the test can affect family connections. In some circumstances, seeking counselling to help both parties deal with the aftermath of the results may be a smart option.
What is a peace of mind paternity test?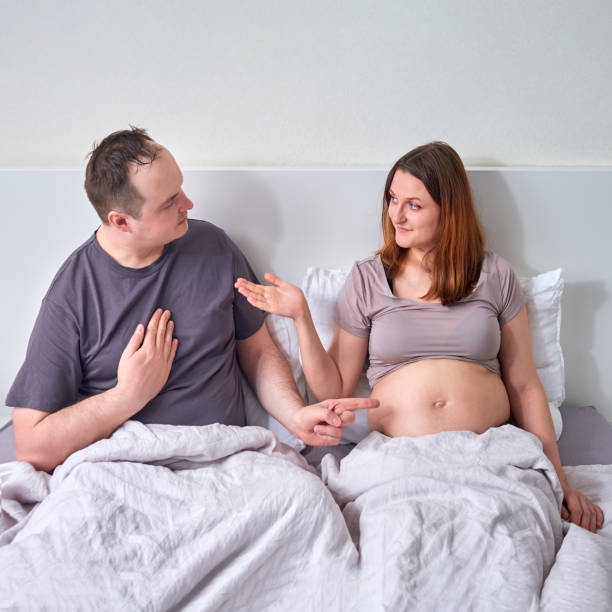 Peace of mind paternity tests are performed only for your personal knowledge, and the paternity test kit is shipped to an address of your choosing so that you can collect the swab samples at your leisure. You can then send them back to our laboratory for the necessary testing, and we will provide you with a report that will prove paternity. Although this test is incredibly accurate, it cannot be utilised for legal purposes because the sample was not obtained by an impartial party.
Read: How Does Oral Health Affect Overall Wellness?
How old does a baby have to be for a DNA test?
The question is, how soon after birth can a newborn get DNA tested? Is a question that many people have posed over the years about doing a paternity test after a mother has recently given birth. The most crucial thing to remember when conducting a paternity test on a baby is that there is no set age for your child to be tested in any law that we are aware of across the country. If your child is given a clean bill of health by the hospital, a paternity test can be done the same day.
If you want to do a paternity test on a newborn or a very young child, there is one thing to keep in mind. It's critical for parents to think about how they want their samples gathered. The two most popular options are listed below. A buccal swab DNA sample collection or a blood DNA sample collection are the two options. The main distinction between the two is straightforward. The buccal swab sample collection is not painful, but the blood sample collection is. The devices used to get DNA samples are also a clear distinction between the testing choices.
Read: Navigating Food Allergies and Intolerances
How does a DNA test work on a baby that has recently been born?
Whether the kid in question is a newborn or an adult, all of our peace of mind paternity tests are conducted in the same manner. Paternity testing compares the DNA profile of a child with that of the purported father (s). The test examines up to 42 DNA markers in order to determine whether half of the baby's DNA comes from the claimed father. Because each individual receives half of their DNA from each of their biological parents, such a comparison can aid in determining paternity. When testing the biological father of the child, both portions of DNA will be identical at each marker. This will not be the case if the male tested is not the biological father.
What is the process for paternity testing?
Paternity testing is a touchy subject. All participants must be physically present at the moment of sample collection. For the tests to take place, both people must give a written agreement. Each participant signs the paternal test samples before the authorised phlebotomist who collected the samples seals them for security reasons.
Consent of parties
To continue with a paternity test, both the male and the woman must sign a written consent form. When you come to the laboratory for the sample collection, you will be given consent forms.
Required documentation
When the child is under the age of legal consent, the mother must accompany the child for identification and to offer signed consent (18 years). Only by testing the father, mother, and child together can the biological paternity of the child be established. If the test is solely for the purpose of exclusion, the father and kid can be tested separately.
Valid identification of both parents is required. The following will be accepted:
International passport


Driver's license


National ID card
We require the following documents for the child/children
Birth certificate of each child


Two passport photos per child
Additional legal evidence proving the requestor's legal guardian status is required in circumstances when a parent is no longer alive at the time of DNA testing. Alternatively, the seeking party's marriage and death certificates will suffice.
Sample collection and testing
The typical procedure involves using an oral swab to gather DNA samples from both the father and the child or children's inside cheeks. The DNA is taken from the cells, amplified, and examined using a baseline of genetic markers after the sample is received in the laboratory. The probability of a biological association is calculated using the results of the data analysis. Hair, tissue, or blood can be used to obtain special samples if a mouth swab is not available.
Delivery of results
A paternity test result might be a delicate scenario. The results are kept under strict confidence. Only the test's direct participants are informed of the results in person. Most labs do not communicate paternity test results over the phone, by email, or in any other electronic media. Within two weeks of collecting the sample, the results are usually ready.
When a court has ordered a test, the results are carefully wrapped and delivered by courier directly to the judge overseeing the case.
Final thoughts
Although it may be awkward for a couple to request a DNA test, it is better, in the long run, to determine whether the possible father is the biological father. It's no good procrastinating and then having to break up with a child's father once a link has been established. Also, the child has a right to know their medical history and be eligible for benefits from their biological father, and the only way to know for sure (and legally) is through DNA testing.
So, the answer to the question "Should a DNA test on your child after birth be mandatory?" is yes. It's never easy to request the test, but it's best for everyone's hearts to find out the truth without a long, drawn-out drama.
Before you go…
Hey, thank you for reading this blog to the end. I hope it was helpful. Let me tell you a little bit about Nicholas Idoko Technologies. We help businesses and companies build an online presence by developing web, mobile, desktop and blockchain applications.
As a company, we work with your budget in developing your ideas and projects beautifully and elegantly as well as participate in the growth of your business. We do a lot of freelance work in various sectors such as blockchain, booking, e-commerce, education, online games, voting and payments. Our ability to provide the needed resources to help clients develop their software packages for their targeted audience on schedule is unmatched.
Be sure to contact us if you need our services! We are readily available.