Freemasonry is alive and thriving with freemasons coming from various walks of life and faiths. A Freemason is concerned with moral and spiritual ideals and believes in a "Supreme Being." A Freemason's moral and ethical approach to life is based on consideration for others, kindness in the community, honesty in business, civility in society, and fairness in all things. Each Freemason is advised to prioritise his family's needs and to show concern for others by caring for the less fortunate and assisting those in need.
One of the oldest fraternal organisations in the world is Freemasonry. It brings together men of high character from various religious, ethnic, and social backgrounds who believe in God's fatherhood and humanity's fraternity. Through its system of degrees, symbols, and fellowship opportunities, Freemasonry provides a framework or blueprint for the virtuous man to further better his character and conduct.
Freemasonry, on the other hand, is a worldwide institution with a lengthy and complicated history. Politicians, engineers, scientists, writers, inventors, and philosophers have all been members. Many of these people have been involved in major international events including revolutions, wars, and intellectual movements.
According to a BBC report, Freemasonry is not only the world's oldest fraternal organisation, but it is also the world's largest, with an estimated global membership of almost 6 million people. A fraternal organisation, as the name implies, is made up nearly entirely of males who get together for mutual benefit, sometimes for professional or financial purposes. Women can now join the Freemasons as well.
When Did Freemasonry Start?
Although its exact origins are lost in the documented history of mediaeval times, modern Freemasonry was founded in England in 1717. Its origins can be traced back to stonemason guilds, which governed freemason qualifications beginning in the late 13th century. As a freemason gained experience, he progressed through the ranks of apprentice, fellow craft, and master mason.
The craftsman was entrusted with the secrets of each level, which included passwords and grips (or handshakes) that were only revealed to him after a master of the craft inspected his ability. As freemasons moved from job to job across Europe, each individual was guaranteed proper compensation and privileges commensurate with his skill level, and clients were assured of the quality of work. Modern symbolic or speculative Freemasonry arose from a few of these lodges, which, particularly in the 17th and 18th centuries, borrowed the ceremonies and trappings of historic monastic orders and chivalric brotherhoods. The first Grand Lodge, a confederation of lodges, was established in England in 1717.
It was one of the most influential groups in propagating Enlightenment principles such as the dignity of man and individual liberty, the right of all people to worship as they like, the development of democratic governments, and the significance of public education. Masons backed the establishment of the first public schools in Europe and America.
Freemasonry developed rapidly during the 1800s and early 1900s. The government had given no social "safety net" at the time. Many people relied on the Masonic tradition of establishing orphanages, widows' homes, and homes for the elderly.
Today, Freemasonry follows the same system of secrets, rituals, and progress, however, the focus has switched from structure construction to character development.
Freemasonry Is Not A Religion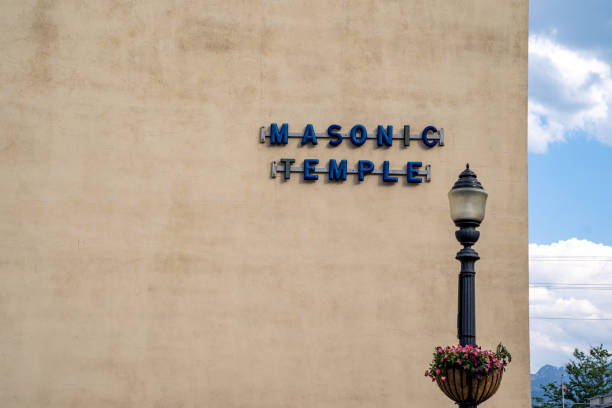 Freemasonry has faced significant hostility from organised religion, particularly the Roman Catholic Church, and numerous states nearly since its inception. Freemasonry is not a Christian organisation, despite the fact that it is sometimes mistaken for one. Many religious components can be found in Freemasonry; its teachings encourage morality, generosity, and adherence to the law of the state.
The applicant for admission must be an adult male in most traditions, and all applicants must believe in the existence of a Supreme Being and the immortality of the soul. Some lodges have been accused of bigotry against Jews, Catholics, and nonwhites in practise. In general, those who doubt religious dogma or criticise the clergy have joined Freemasonry in Latin America. In contrast, white Protestants make up the majority of membership in Anglo-Saxon countries. Co-Freemasonry or Le Droit Humain, a modern French tradition originating in the 19th century, welcomes both women and men.
Apart from the primary bodies of Freemasonry derived from the British tradition, there are a number of independent clubs that are largely social or recreational in nature, with no official standing in Freemasonry but membership drawn from the society's higher degrees. They are very common in the United States. The Ancient Arabic Order of the Nobles of the Mystic Shrine (the "Shriners") is noted for their charity efforts. There are distinct lodges for women in the United Kingdom and other nations.
The Order of the Eastern Star, which is open to both women and men, is for female relatives of master masons; boys can join the Order of DeMolay or the Builders; and girls can join the Order of Job's Daughters or the Order of the Rainbow. Under penalty of suspension, English Masons are prohibited from joining any recreational clubs or quasi-Masonic organisations.
What do Freemasons Do?
Freemasonry is an international organisation with nearly six million members, but it is very much a local organisation. Freemasonry gives life a deeper degree of significance for the growing number of people who have an intrinsic belief in a Supreme Being but are not too "religious."
Becoming a Freemason means committing to your own personal development, to values that treat all people equally, and to aiding others in our community. Each year, Freemasonry in South Australia and the Northern Territory donates almost $2 million to deserving charities through the Masonic Charities Trust. Another philanthropic arm, the Freemasons Foundation, provides modest grants, education scholarships, and bursaries that make a genuine difference in the lives of many people.
Masonic Lodges typically meet once a month for 2-3 hours, during which time they transact Lodge business and perform ancient rituals like as initiating candidates, promoting members to higher degrees, or installing a new master and his officers.
All of this takes place during a centuries-old formal ceremony intended to teach Freemasons essential truths and have them thinking about their own nature, actions, and being. Freemasonry's teachings are heavily metaphorical and replete with iconic symbols. Only Masons should have access to the true nature and teachings of Freemasonry. Lodge meetings are followed by a 'festive board' supper, which allows members to unwind and get to know one another in a calm and friendly environment.
Before you go…
Hey, thank you for reading this blog to the end. I hope it was helpful. Let me tell you a little bit about Nicholas Idoko Technologies. We help businesses and companies build an online presence by developing web, mobile, desktop and blockchain applications.
As a company, we work with your budget in developing your ideas and projects beautifully and elegantly as well as participate in the growth of your business. We do a lot of freelance work in various sectors such as blockchain, booking, e-commerce, education, online games, voting and payments. Our ability to provide the needed resources to help clients develop their software packages for their targeted audience on schedule is unmatched.
Be sure to contact us if you need our services! We are readily available.