Oh, the life of a digital nomad. Many of us have seen photographs of a laptop next to a coconut with a beautiful ocean in the background and the hashtag #officeoftheday from digital nomads. Seeing someone working from a beach or a hammock in a tropical locale might easily make you envious, especially if you're stuck in a cubicle or working from home in your PJs.
Personally, I think the answer to whether or not the digital nomad life is fun depends on who you ask. Some people are doing it and they seem to be loving it while some others get into it and discover it's not as glamorous as it's painted to be. And yes, there is a difference between a digital nomad and a regular remote worker, the difference being the nomad part.
Digital nomads are basically remote workers that love to travel. A lot of them would tell you they've been to over 50 countries in the last 3 years, made many friends and had amazing experiences along the way. Meanwhile, many remote workers (like me) are quite content with the fact that we do not have to commute to work every day. We get to earn our income while we stay home, eat well, hang out with friends, enjoy quality family time and so on. We could travel occasionally but not on a nomadic level.
Here are some of the most critical considerations to make while thinking about how to become a digital nomad, particularly if you want to travel the world.
What/Who Is a Digital Nomad?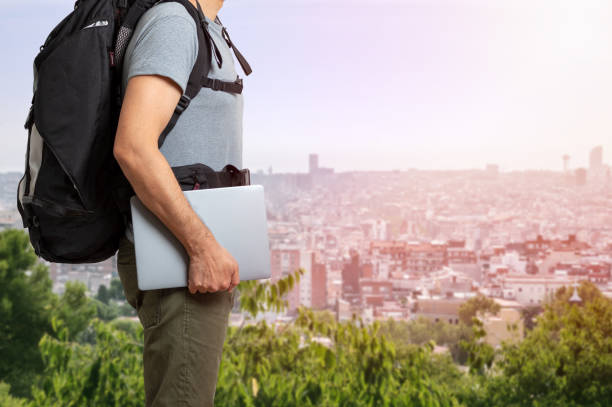 Digital nomads are people that live a nomadic lifestyle and are location-independent. They use technology to do their jobs. Telecommuting rather than being physically present at a company's headquarters or office, digital nomads work remotely. Several developments have enabled the digital nomad lifestyle, including content management software, low-cost Internet access via WiFi, cellphones, and the use of Voice-over-Internet Protocol (VoIP) to communicate with clients and employers. In addition, the rise of the gig economy has had an impact.
The term "digital nomad" was coined in 1997 by Tsugio Makimoto and David Manners in their book The Digital Nomad. Their book predicted, among other things, the creation of a single, all-powerful communication gadget that would allow people to work from anywhere.
Digital nomads work from laptops, social media, and mobile phones in the twenty-first century. Digital nomads might work from a beach community in Costa Rica for a few months before moving to a part-time share in London or Rome for another few months. One of the advantages of being a digital nomad is the ability to live and work anywhere you want. It is now easier than ever to plan a stay for a few days, weeks, or months thanks to the surge in short-term house and office shares available worldwide via internet platforms.
While being a digital nomad may sound tempting, it is not without its drawbacks. The surge in remote job opportunities has made it simpler for people to test out a digital nomadic lifestyle while still earning money and advancing their careers.
How To Become One
Social media might tilt our perception of a digital nomad in the wrong direction at times. Bloggers, digital nomads, and freelancers make it seem so simple. However, becoming a digital nomad does not happen overnight.
It takes a lot of forethought, ingenuity, and dedication. Let's take a look at four actions that newcomers should take to get started.
1. Find Your Skillset
You may believe that you lack the necessary skills to work online, but you are most likely mistaken. Knowing how to type and use a computer may be enough to get you started and secure you a simple remote job that allows you to work from anywhere in a few weeks. It's much better if you mix some of your knowledge from different subjects.
You can make it work remotely no matter what abilities or experience you have. Some tasks, such as coding or graphic design, can be completed from any location. Other abilities, on the other hand, maybe more difficult to practise at a distance. However, it is doable!
Start by checking through job postings and freelancing websites to see what clients or employers are looking for. Once you get the idea, you can work backwards to acquire the skills in demand and become the ideal candidate for hire.
Read: How to Understand Programming Jargon for Newbies
2. Start Freelancing
Start modest gigs and freelancing for clients once you've figured out what you're good at. The compensation may not be extravagant, and the labour may be tiresome, but the experience is invaluable.
You can start your own business once you've built up a portfolio, expertise, or qualifications. Don't put all your eggs in one basket. Most digital nomads like to have many income streams (or part-time work). How else do you suppose they'll be able to afford all of the travellings?
3. Choose Your First Location
Speaking about travelling, it's important to pick your locations with intention. Especially your first location because if you get that wrong, it could really throw you off your game.
It matters where you live. Running a remote business on a small island with spotty internet access is unlikely to get you very far. You'll be rushing home in two months if you live in Paris on a freelancer's budget.
Of course, you should think about your legal right to live and work in a country. Digital nomad visas or remote worker licences are now available in many countries, including Estonia and Malta.
Your budget, legal rights, internet access, and convenience of living should all factor into your decision. If budget and cost of living are more important to you, the best place to visit include:
Mexico
Georgia
Romania
Vietnam
Thailand
Cambodia
Estonia, of course!
If your desire is to get the best of both worlds, the following places are both gorgeous and relatively budget-friendly.
Czech Republic
Croatia
Portugal
Colombia
But if you are already location independent and have big bucks to spend on travelling, then you, my friend, have no limits.
4. Find a Community
Finding new networks of like-minded people is the finest part of being a digital nomad. Being a part of a community is beneficial not only to our business but also to our health! Working from home should not prevent you from doing so.
Socializing will not only make you happier, but it will also help you connect with possible clients and job opportunities. This might be a vital aspect of your success as a digital nomad. To locate your community and meet like-minded people, look for coworking places, cafes with decent WiFi, and meet-up events.
Is The Digital Nomad Life fun?
The life of a high-tech digital nomad sounds fantastic. Working in a lovely European cafe or even on the beach is a refreshing change from a drab workplace.
The greatest benefit of being a digital nomad is, of course, freedom. You have complete control over your location, work hours, vacation time, and much more.
It's also possible to have less stress and a higher quality of life. That's not to imply that living as a digital nomad is a vacation, but the minor irritations that previously caused everyday stress such as rush-hour traffic, job meetings, and a lack of spare time will vanish.
However, no profession or way of life is ideal. Every good thing has its drawbacks, and the digital nomad lifestyle is no exception.
To begin with, being a digital nomad is difficult. There's no one to show you the route or assist you. You're on your own when it comes to paperwork, visas, health insurance, learning new languages, and international business.
Also, getting used to working while you travel will make it hard for you to ever put your work down and take and actual vacation. You could become a workaholic without even knowing it!
Another potential drawback is a lack of motivation. You'll need a lot of self-motivation to be your own boss or manage your own firm. People who prefer to be told what to do and when to do it may have difficulties in this situation.
You must first determine your personality type before venturing out into the world and embarking on the nomad life. This could be the ideal opportunity for you if you enjoy challenges, independence, travel, and are highly self-motivated. but I and others like me would rather live in one place, work full-time, work from home (or go to the office every day), and stick to our routines. All while wearing our sweatpants and PJs (very important).
Before you go…
Hey, thank you for reading this blog to the end. I hope it was helpful. Let me tell you a little bit about Nicholas Idoko Technologies. We help businesses and companies build an online presence by developing web, mobile, desktop and blockchain applications.
As a company, we work with your budget in developing your ideas and projects beautifully and elegantly as well as participate in the growth of your business. We do a lot of freelance work in various sectors such as blockchain, booking, e-commerce, education, online games, voting and payments. Our ability to provide the needed resources to help clients develop their software packages for their targeted audience on schedule.
Be sure to contact us if you need our services! We are readily available.